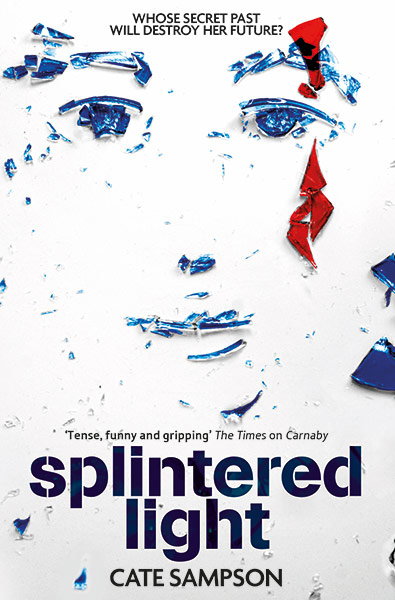 Leah can't remember:
She can't remember who killed her mother and tried to kill her too. So when the man imprisoned for the murder walks free, Leah's desperate to discover the truth.
Charlie wants to forget:
He wants to forget what he's been told about his dad being a murderer and a monster. He wants to please his dad, even if it means hurting someone else.
And Linden?
Linden is trying to forget his criminal past and remember the person he wants to be. But how long can he resist temptation?
Three teenagers defined by a shared calamity are about to collide, because no matter how shattered their lives, they don't want to be broken forever…
---
When I started to write Splintered Light, I knew it would be about the lives of three teenagers who had never met, but whose lives were closely and dangerously intertwined. Twelve years before Splintered Light begins, Leah and her mother were attacked in a park, her mother killed. Charlie's father was imprisoned for that murder, but as Splintered Light begins, his father's conviction is overturned and he walks free. Meanwhile, Linden is about to get out of the Young Offender's Institute where he's been for three years, and return to live with his criminal brother, Victor. Linden is baffled by his brother's interest in the twelve-year old murder. He's never heard of Leah, or Charlie. He has no inkling that they are going to burst into his life, confusing him and scaring him, and challenging him to live a better life.
The thing I love about writing is that it enables me to enter into other people's lives, to experience other people's experiences, their fears, and their hates and their loves. It gives the reader the same possibility – a good book challenges its reader to live a life he or she has not lived. These are fictional lives, fictional emotions, but they ring true with us because reality should resonate through them. I imagined Leah, but I suspect there are bold, strong young women out there who could pass for Leah, and young men and boys who are Lindens and Charlies. At Massimo Gaetani's Kickboxing club, Carisma, I saw disciplined, powerful young women fighting alongside their male classmates. In inspection reports of Young Offenders' Institutions, I read about vulnerable boys imprisoned equally by their circumstances inside and outside of the prison walls, boys who lay on their beds and sobbed for their mothers.
Splintered Light is about murder, hatred and revenge. But it's also about trying to make things right, and not knowing how to do that, and making mistakes. Most of all, it's about trusting people, even when you know you're taking a risk…