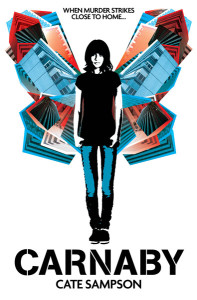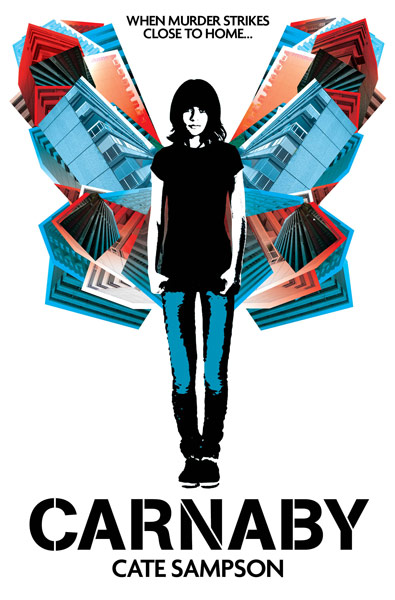 Sarah Carnaby has a tough life, but it suddenly gets a whole lot tougher when her mother is found murdered, her sister goes into labour and her new baby nephew is threatened with being taken into care. When another girl from the estate is found murdered, Sarah begins to look for a link between the deaths. But even when she's called as a prosecution witness at the murder trial, Sarah's not talking. Because if she does, she may never see her family again.
How I came to write Carnaby
One day, the librarian at my children's school, asked me if I would write the opening to a story for the Write Path project. She explained that the opening of my story would be passed from student to student and that they would add to the story until it was complete. Oh yes, she said, and it should have dragons in it.
Of course I'll do it, I said, and promptly forgot about it… until the day before the deadline, when I suddenly realized I was running out of time. Instead of thinking or planning or worrying, as I normally would, I just sat down to write for twenty minutes.
When I raised my head from the screen, I realized I had a thirteen or fourteen year old girl, and that she had a name, Sarah Carnaby, and that she lived just to the south of the River Thames in London. I knew she was brave but that she was in a great deal of trouble.
I forgot about the dragons altogether.
The opening was sent off to school, and the students added dragons to their story, and it took on a life of its own.
But Sarah stayed with me. A writer longs for a character to introduce herself out of nowhere, and here she was. I couldn't turn my back on her.
I decided to write Sarah's story myself. I'm afraid it still lacks dragons. Carnaby is not a story for young children, or even for young teenagers. It really is a story for young adults. It's not about vocabulary or reading age. This book has no dragons, but it holds other, more disturbing terrors.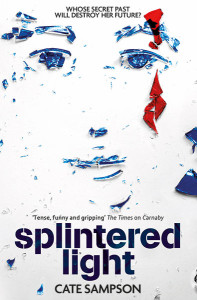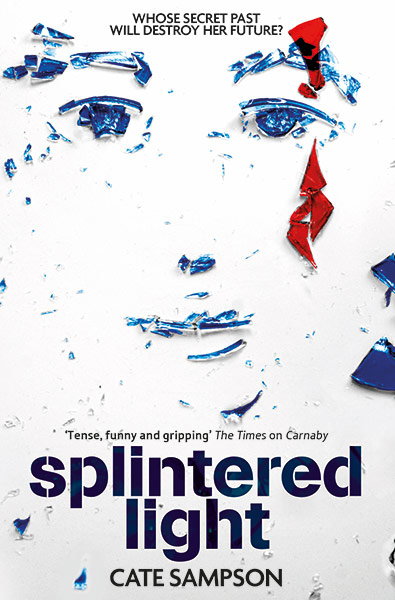 Leah can't remember:
She can't remember who killed her mother and tried to kill her too. So when the man imprisoned for the murder walks free, Leah's desperate to discover the truth.
Charlie wants to forget:
He wants to forget what he's been told about his dad being a murderer and a monster. He wants to please his dad, even if it means hurting someone else.
And Linden?
Linden is trying to forget his criminal past and remember the person he wants to be. But how long can he resist temptation?
Three teenagers defined by a shared calamity are about to collide, because no matter how shattered their lives, they don't want to be broken forever…
When I started to write Splintered Light, I knew it would be about the lives of three teenagers who had never met, but whose lives were closely and dangerously intertwined. Twelve years before Splintered Light begins, Leah and her mother were attacked in a park, her mother killed. Charlie's father was imprisoned for that murder, but as Splintered Light begins, his father's conviction is overturned and he walks free. Meanwhile, Linden is about to get out of the Young Offender's Institute where he's been for three years, and return to live with his criminal brother, Victor. Linden is baffled by his brother's interest in the twelve-year old murder. He's never heard of Leah, or Charlie. He has no inkling that they are going to burst into his life, confusing him and scaring him, and challenging him to live a better life.
The thing I love about writing is that it enables me to enter into other people's lives, to experience other people's experiences, their fears, and their hates and their loves. It gives the reader the same possibility – a good book challenges its reader to live a life he or she has not lived. These are fictional lives, fictional emotions, but they ring true with us because reality should resonate through them. I imagined Leah, but I suspect there are bold, strong young women out there who could pass for Leah, and young men and boys who are Lindens and Charlies. At Massimo Gaetani's Kickboxing club, Carisma, I saw disciplined, powerful young women fighting alongside their male classmates. In inspection reports of Young Offenders' Institutions, I read about vulnerable boys imprisoned equally by their circumstances inside and outside of the prison walls, boys who lay on their beds and sobbed for their mothers.
Splintered Light is about murder, hatred and revenge. But it's also about trying to make things right, and not knowing how to do that, and making mistakes. Most of all, it's about trusting people, even when you know you're taking a risk...